Front bumper
Depending on the model year and version of the model the attachment is different.
-open the hood and Unscrew the screws (twisted from top to bottom) of the grille.
After 2011:
-at the bottom of the lining pulls out four pistons (inserted bottom-up).
-now you need to insert a thin screwdriver between the wing and trim of the grille and unlock the latch.
-remove the trim of the radiator grille from the clips.
-under the cover plate, Unscrew two screws on each side and remove grille (pull up).
-Unscrew three screws on each side and remove the lining panel (until 2011).
-Unscrew the wheel to the left or right side, depending on which side of the bed will be dismantled.
-wheel arches take out the rivets that attach the bumper to the wheel arches and wings.
-to turn out the two screws in the grille (spun down) and the two screws under the license plate.
-drag one clip under the lights and two, on the contrary, in the lower part of the bumper.
-pulls the bumper forward in the direction of movement of the guide (need to do this with a helper so as not to scratch the paint on the wings).
-you can now unplug the connectors from the fog lights (if any).
-remove connector from the PDC (if any).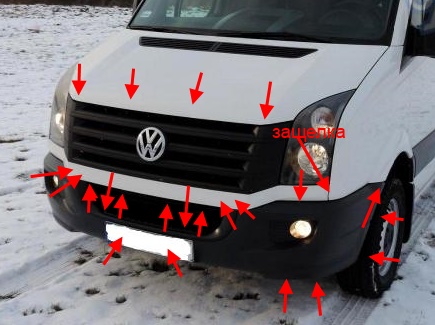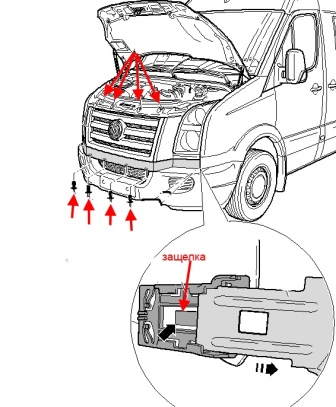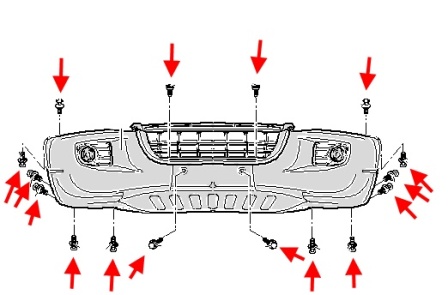 Rear bumper
-remove side moldings on the rear fenders and racks (mounted on the latches).
-under the moldings to get the caps.
-open the rear door and Unscrew the seven screws.
-take out the caps of the pegs (inserted upside down).
-with the assistant pulls the bumper together with the corners from the rails themselves.
-remove connector from the PDC (if any).