Audi Q7 I 4L (2005-2015)
Front bumper
in vehicles with ACC to dismantle heated the bracket icon.
-under the hood take out the caps and remove the cover frame of the radiator.
-under the hood  unscrew the top bolts that secure the radiator grille and upper bumper to body.
-in the lowest part of the bumper along the entire length Unscrew the screws that secure the protection of the engine and wing flaps.
-Unscrew the wheel left or right depending on which side of the bumper will loosen first.
-in the wheel wells, unscrew the screws and pull out the rivets that attach the fender liner to the bumper.
-pulls off the bumper with the side latches.  
-gently tighten the bumper itself.
-you can now unplug the connectors from the fog lights.
-if there is paramilitary disconnect the hoses from the injectors and close them with stoppers that from the reservoir was leaking fluid.
-remove the bumper.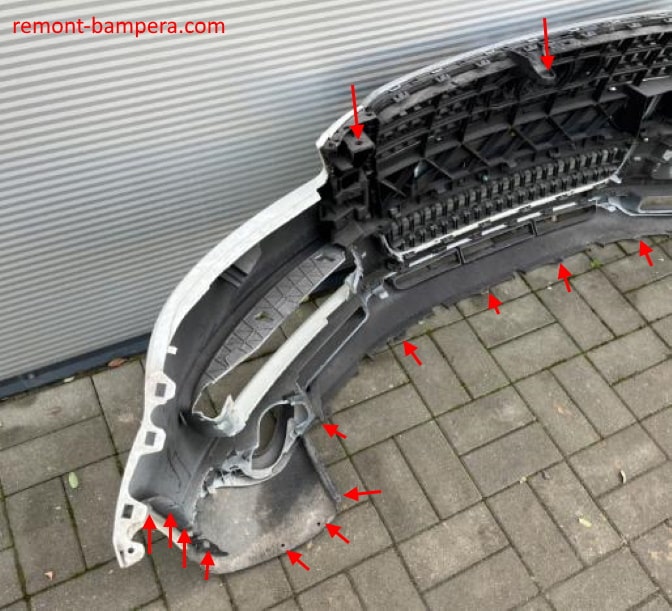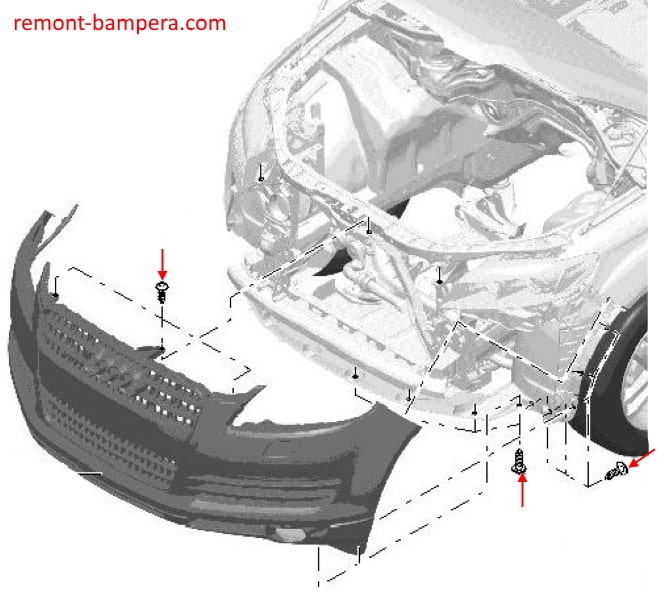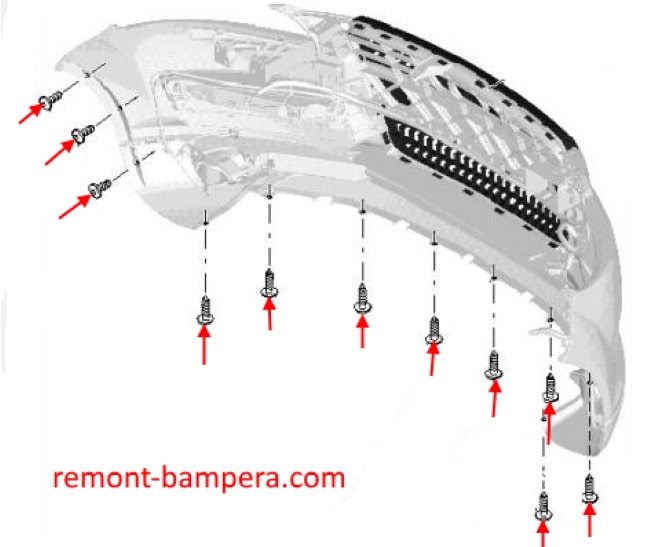 Rear bumper
Caution!
For vehicles with lane change lanes (audisideassist) additionally consider the following. If you removed the rear bumper re-installed or made changes to the rear bumper, it is necessary to calibrate the lane change movement (audisideassist)
-in the wheel wells, unscrew the screws and pull out the clips (to remove the wheels, use a ratchet with a nozzle).
-throughout the length of the lower part of the bumper take out the clips (usually four in the middle and one on the edges).
-remove  the paneling in the trunk .
-from the trunk, approximately under the rear lights, Unscrew the two nuts on each side.
-if you have sensors , you need to disconnect common connector (left side under the tail lamp).
-edge of the bumper remove guide.
-pulls the bumper itself.