Front bumper
Despite its class bumper in this model shot is very simple.
To remove the front bumper need to Unscrew all the four nuts.
-open the hood and Unscrew one bolt on each side at the corners of the headlights.
-left and right side, remove the grille.
-under the grids turns on a nut on each side.
-with the assistant pulls the bumper on itself with the side rails.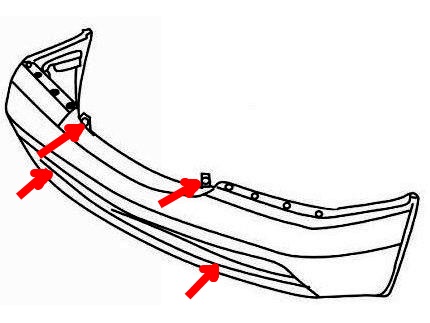 Rear bumper
Rear bumper and 140-m body can be attached in different ways (the difference in the number of nuts) depending on body type and year of manufacture, but the principle of attachment is the same everywhere.
-wheel arches Unscrew the screws that attach the fender liner to bumper (if any).
-in the trunk remove the rear valance.
-shifts in the side paneling (in some cases it is easier  to Unscrew the panels under the rear lights).
-under coverings Unscrew nuts of fastening of a bumper (the number may be different ).
-pulls the bumper on yourself (do it better with an assistant, so as not to scratch the paint) .
-in the left corner bumper remove the connector from the radio antenna.
-the bumper is cleared.